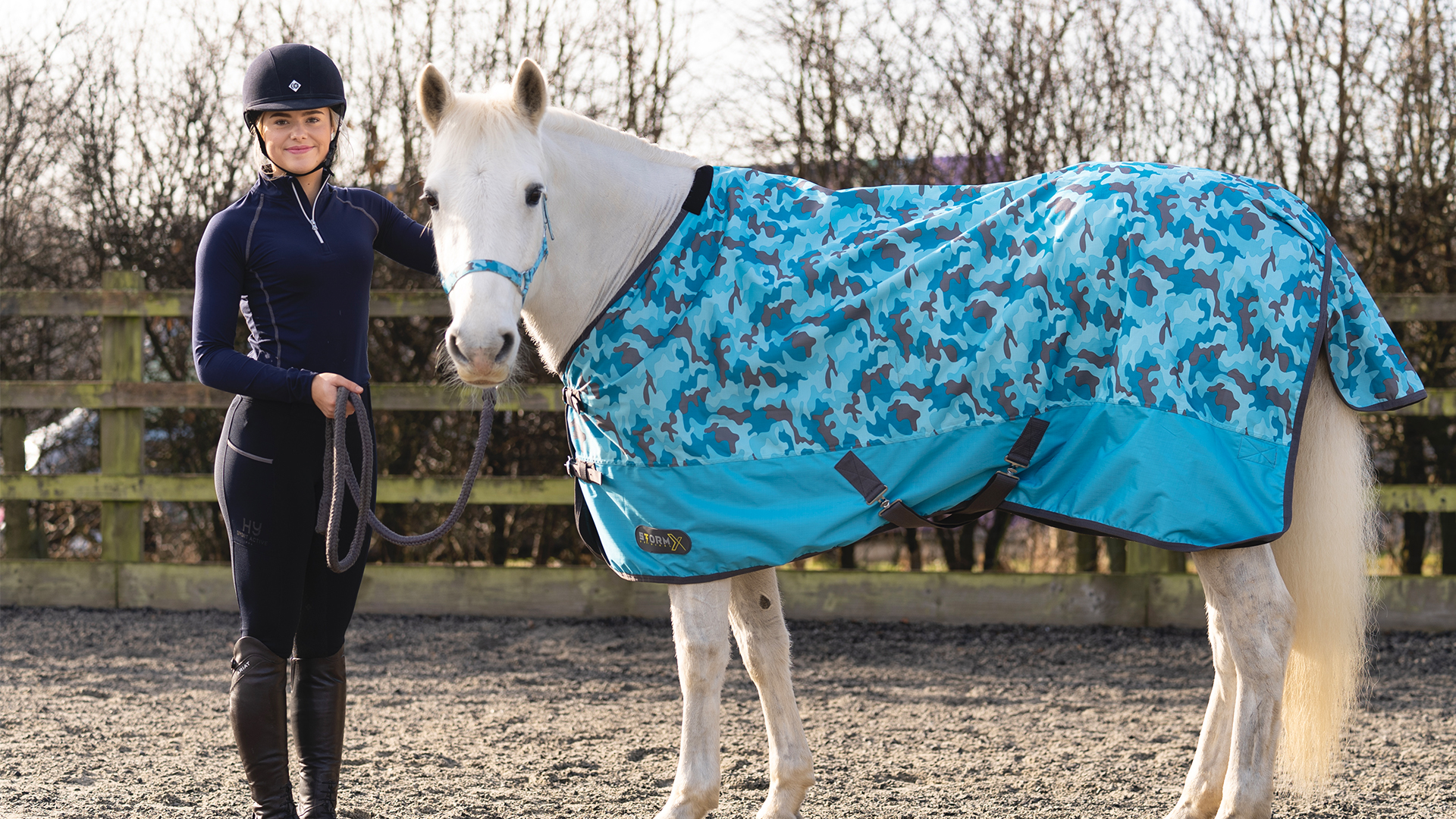 Feel the force with the new DynaForce collection by Hy Equestrian
---
Hy Equestrian are dedicated to growing their clothing and rug collection, and this has been shown in previous years by the popularity of the limited edition prints and clothing alike. Until now, only the Thelwell collection has had clothing to correspond to the rug print, but now the team have taken matchy-match one step further than they ever have before!
The brand-new 'DynaForce' collection is a new range designed with coordinating rugs, clothing and accessories with an army print twist. The first part of the collection comes in Pacific/Grey and features a 50g turnout rug that is part of the StormX Original range, Mizs clothing that consists of base layers, riding tights, socks and hat silk, along with matching accessories including hat, boot and grooming bags and head collar set. The eye-catching rugs are available from 4ft6 to 7ft3 and clothing starts from 7-8 Years and goes to 13-14 Years.
The collection is being announced to the public on Thursday 9th March via Hy Equestrian and This Esme's social media channels, with the rugs and clothing expected to arrive late March.
Rebecca Howsam, Hy Equestrian's Brand Manager said:
"Everybody loves a matchy range, so our designers have worked incredibly hard to take it to the next level. Our StormX rugs are always popular, especially the limited edition prints, so we're really excited to have the clothing alongside."
Hy Equestrian are one of the leading suppliers of horse and rider products with an extensive range spanning from funky rug prints, stunning fashion pieces and on trend matchy matchy sets from their Sport Active range. The full range of products available can be found on their website

www.hy-equestrian.com

and at their stockists nationwide

.