We are delighted our horse and rider products are trusted by top riders from a range of disciplines.
More information about the riders who use and trust Hy Equestrian products can be found below.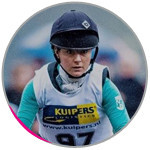 Alex Postolowsky, International Event Rider
Alex has enjoyed great success in her career having featured multiple times in the top 50 riders in the country. She won Best International First Timer and Best British First Timer at Burghley and has had many International wins and placings up to 4* level including a Top 10 placing in the British Open CIC*** at Gatcombe. Alex also enjoys producing young horses which has resulted in wins at Burghley and Osberton Young Horse Championships. Producing young horses has helped Alex to top the Foundation Points Leaderboard 3 times, the only rider to do so.

Daniel Moseley, International Showjumper
Daniel and wife Rebecca set up Moseley Equestrian, based in Lincoln, in 2013. Daniel previously spent 5 years learning his trade
riding for William & Pippa Funnell at the Billy Stud. He has been on the European Young Rider Squad 5 times and has represented his country several times at Europeans and Nations Cups including being a member of the World Class Development Program for 6 years. Moseley Equestrian have a strong team of horses and regularly compete across Europe at the top of the sport.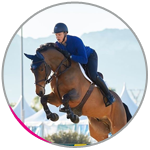 Emma Hyslop-Webb, International Event Rider
Emma is a 5* International event rider based at Vale View Equestrian in Leicestershire. Emma show jumps and events and is regularly seen at prestigious events such as Bramham, Burghley and Badminton, where she was one of only three riders in the world to complete the 2019 Badminton with two horses. Emma has a team of 15 horses ranging from exciting youngsters to seasoned campaigners.

Jayne Lancashire, British Dressage Rider
Jayne is a British Dressage rider who competes up to Grand Prix level. Jayne has trained with many high-profile riders including Bent Jensen, Marcus Gribbe, Andelinde Cornelissen, Stephen Clarke and Vicki Thompson. She is currently trained by Spencer Wilton. Jayne trained her main horse, Alfons herself having owned him from the age of 5 and has two other horses she competes at small tour level. She is working at advanced medium level with another. As well as competing Jayne enjoys training riders to international small tour level.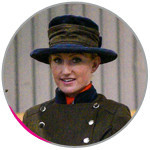 Sharn Linney, Show Producer
Sharn is a well-known face on the county showing circuit with too many wins to mention. Sharn rides, breaks and produces ponies of all types and is regularly seen at the top of the lead rein line up. Sharn has lead Welsh Section A

Thistledown Van-Der-Vaart to HOYS victory an impressive five times in the Lead Rein class and then stood overall Mountain & Moorland Mini Pony Champion on each occasion, a title no one else holds.